Testimonials and Case Studies
'Raggles' Pardoe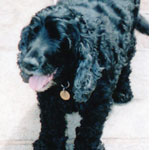 Raggles is a dearly loved 13 year old cocker spaniel and we have had him just over two years. His history is unknown, but he suffers from a number of health issues. He then damaged a cruciate ligament which caused him great pain and an inability to stand or walk. The vet informed us, that due to Raggles age and pre existing health problems, surgery was not a viable option. He did however suggest physiotherapy might help and recommended Kathryn Welland of Oaklands Physiotherapy.
Kath worked with Raggles for three months and, despite being a difficult dog to handle, made excellent progress. Kath's experienced and reassuring approach involved us in his treatment so we could improve his condition between therapy sessions.
Raggles is now back to enjoying long walks twice a day and is pain free. The transformation is astounding thanks to Kath's knowledge and experience. I thought I would have to put him to sleep... Kath ensured I did not have to make that decision.
I thoroughly recommend Kath to all pet owners, she is cheerful and has a very professional approach which puts both pet and owners at ease.
The Pardoes
- Kenilworth
---
'Izzy' Pargetter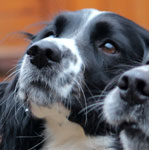 My three year old English springer spaniel bitch, Izzy has spinal and leg injuries. Although operable the prognosis was not good so we decided not to put her through the trauma of the operation.
It became apparent that Izzy would need a cocktail of drugs to keep her pain to a minimum. My vet put Izzy on a course of acupuncture and then referred her to Oaklands Physiotherapy.
Kathryn came to our house to asses Izzy and show me a home programme that I could carry out myself at home.
In two months Izzy has made great progress and the pain is subsiding. We have been able to take her off the pain killer Tramadol and she is now only on a reduced dose of Metacam. She is also weight bearing on all four legs and enjoying walks with the rest of our Springer Spaniel pack.
Anne Pargetter
-
Coventry
---
'Storm' Griffiths
Kathryn came out to myself and my horse and instantly put me at ease. Kathryn was extremely thorough but also explained everything she did and my horses reactions to it. Such a friendly but professional women who worked around my horses' behavioural issues to keep him happy!
Couldn't recommend her enough and will always have regular visits. I've loved feeling involved in the process and loved my homework Kathryn gives me and I've seen the improvements in my horse storm dramatically!
Thank you so very much!
Sorrel Griffiths and Storm
---
Vicki-Jayne Maris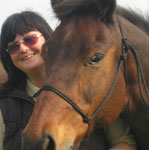 I am a nationally recognized specialist in natural horsemanship, confidence building and equine behaviour.
I often work with horses with complex issues. I have working relationships with a range of complimentary professionals and Kathryn Welland from Oaklands Physiotherapy is an expert I regularly work in partnership with.
Her skill and expertise in both equine and human physiotherapy are invaluable. I have witnessed my client's horses being transformed with a blend of Kathryn's physiotherapy and my horsemanship approach.
Kathryn is excellent value for money, she has an eye for detail and leaves no stone unturned. Horses are very comfortable with her calm professional approach.
I highly rate Kathryn, so if you are looking for a physiotherapist with a proven track record of success, that is reliable, honest and caring then give Kathryn a call.
Vicki Jayne Maris - BA Hons,
National Horse and Pony Network Managing Director and Inspirational Horsemanship Tutor.
www.inspirationalhorsemanship.co.uk
www.nationalhorseandponynetwork.co.uk
---
'Rusty' Hammond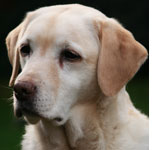 Kathryn Welland of Oaklands Physiotherapy has been instrumental in building on Rusty's hydrotherapy treatments to enable him to walk unaided for a mile at a time. Her patience and professionalism have ensured his transition from complete hind limb paralysis to the point where his quality of life has been maximised although he will always be a partially disabled, but boisterous Labrador Retriever.
Andrew and Judith Hammond
---
Elizabeth Falkinder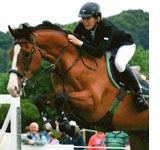 Kathryn has been treating my top show jumpers for over three years now.
She has worked wonders, they always respond to their treatment, to keep them competing at top level.
She is professional and very thorough and I would highly recommend her to any of my clients.
Elizabeth Falkinder
---
If you have any questions or need to speak to Kathryn Welland, please call her on
07977 424549
or email
info@oaklands-physiotherapy.co.uk
Kathryn Welland
- Chartered Physiotherapist and Veterinary Physiotherapist
MCSP Bsc (Hons) Phys. PGDip Vet Physio (RVC) Cat A ACPAT